RTLS solutions improve processes, reduce waste, save money.
As industry-leaders in Real Time Location Systems (RTLS) for over 20 years, we deliver solutions which are unmatched in accuracy, speed, performance and efficiency. Our RTLS and RFID solutions are completely customised to meet the needs of individual healthcare facilities.

Systems are designed to vastly improve efficiencies and processes, thereby ensuring improved patient outcomes as well as a fast return on investment.
RTLS is most effective when deployed as a system-wide initiative across the healthcare facility and integrated with hospital processes.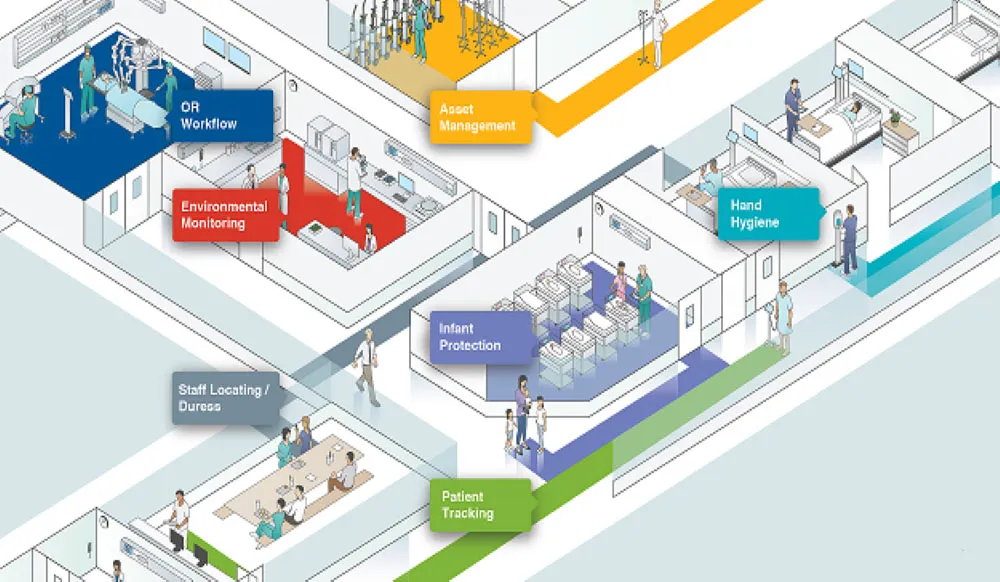 How Can RTLS Solutions Benefit Your Healthcare Facility?
Track, Measure and Analyse Data
Clinical Operations & Workflow
Manual tracking systems are replaced with an automated system providing patient location, triage information, who is being discharged, who is receiving imaging services and dozens of other hospital department encounters. Real time data on the movements of caregivers allows management to understand and improve clinical workflows. Real-time visibility into the location of colleagues improves care coordination as more time can be dedicated to care delivery.
Reduce search times by up to 90% as staff members can instantly locate any item critical to patient needs. Asset Tracking eliminates hoarding and Increases the amount of time staff have with their patients, while attending to other critical tasks.
Staff Security & Protection
By employing an RTLS staff duress and visibility solution, healthcare facilities can quickly determine when and where help is needed and enable faster response times during emergencies in high-risk work environments. Highly advanced RTLS technology provides workers with the peace of mind of knowing that assistance is just a button-press away.
Real-time hospital patient tracking systems improve patient flow in the OR, ED and Clinics. With location services for healthcare, patients no longer need to feel restricted and staff do not have to waste time looking for patients. RTLS can transform patient flow, reduce wait times, increase patient satisfaction and keep staff informed in real-time of the stage-of-care of each patient.
Infants wear small tags that communicate continuously with staff to provide location visibility, prevent abductions, and support correct mother-baby matching.
Improving hand hygiene compliance utilising an RTLS system can help hospitals reduce Healthcare Associated Infections (HAIs) and their associated costs. Reporting true compliance rates to hand hygiene protocols and offering reminders to staff in real-time provides a cost-effective means to increasing patient safety.
Badges worn by staff gather essential data, expedite emergency actions and streamline communication between patients and nurses.
Navigating a hospital can be confusing and stressful for patients and staff. Wayfinding solutions make it easier to find your destination.
Controlling infection is critical. A clinical-grade RTLS solution will track and manage unsterile utensils and surgical trays by location and their current stage in the sterilization process.
RTLS is most effective when deployed as a system-wide initiative across the healthcare facility and integrated with hospital processes.