SVC Nursing Home Solutions
TOUCHSAFE PRO WIRELESS NURSE CALL SYSTEM
The Smart Choice for Nursing Homes
Touchsafe Pro Nurse Call changes the link between Resident, Carers and Management. This feature-rich, cost-effective solution ensures that residents receive the care they need quickly by prioritsing calls.
Touchsafe Pro is proven to reduce fall risk, reduce noise fatigue, eliminate manual record keeping and provide detailed logs for all residents and customisable activity reports for management.
Designed by Experts, Used by Professionals
Touchsafe Pro has been developed by Aid Call who have over 40 years of experience providing solutions for Nursing Homes and Hospitals in Ireland and the UK. Aid Call have been our partners in Nurse Call for over 25 years and SVC have commissioned hundreds of Aid Call systems throughout Ireland over this time.
Future Proof Solution
Aid Call is the only Wireless Nurse Call manufacturer that has upgraded from the old technology of a "single radio wave transmission system" to wireless mesh technology. This is a more stable network for a safer, faster and more dependable system. Wireless mesh technology is used and trusted for its' reliability the military and other emergency services worldwide.
Proven Technology
Touchsafe Pro is now being used by over 50 healthcare facilities in Ireland and that number is growing steadily. See our testimonials to find out why customers chose us and Touchsafe Pro.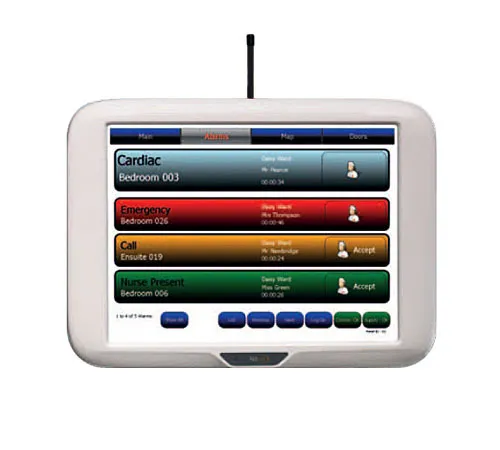 "SVC Care Communications have been a supplier to St. Luke's Home for many  years providing a top class service. The installation of the Touchsafe Pro Nurse Call System and the Wireless Fall Monitors have proved invaluable allowing our staff to be more efficient and giving them more time for our 128 residents."
Joan Jeffery – Director of Finance & Administration – St.Luke's Home, Cork
Touchsafe Pro is what we like to call a SMART Nurse Call System, here's why:
Seamless integration with other systems
Mobility of the system enhances staff performance
Advanced functionality supports key management systems
Reliability ensures that resident care is never compromised
Technology that is unsurpassed by other wireless systems
Why Choose Touchsafe Pro?
Touchsafe Pro is installed with minimal disruption to residents and the day-to-day running of the Nursing Home - Bedroom Call Points are installed in under 10 minutes. Our experienced technicians liaise with staff to ensure that the system is installed with utmost consideration given to residents.
SYSTEM FEATURES
Enhanced call logging and customised reporting

Muiti-site dashboard for management of multiple facilities
Automatically tracks all relevant activity
Records up to 25 years of call history
Silent mode configuration for quieter environment
Dynamic routing of calls ensures reliability and speed
Wireless mesh technology ensures safe, fast, dependable connection
Range of portable devices and accessories
Touchsafe Pro can also be used for:
Staff Contact Tracing
Night Round Recording
Emergency Exit Monitoring
Night Time Door Monitoring
Bed Rail Check Recording
Easy Clean Antimicrobial Surface
Staff Emergency Button
Nightly Rounds Logging Feature
Self Monitoring LCD Screen
Includes Socket for Fall Alarm Mats
On the Wall or With the Resident
Easy to Relocate if the Bed Position Changes
Comfortable Easy Press Button
Flashing Call Reassurance Light
Glow in the Dark
Easy Clean Antimicrobial
Comes with a Bedsheet Clip
Anti-Break Bungi Cable
Other Options Available
Digital display for corridors 
Low Noise, High Visibility
Large font, clear text, easy to read
Easy Pull Cord
Wired or wireless options
Suitable for Showers & Toilets
Monitor Fire Exits
Staff Override Function
View Door Status on Display
Arm Door Reminder
Staff Emergency Help Button
Staff Only Reset
Direct staff quickly to the right location
Pre Set Colours Indicate Type of Call
Any Call Point Can Trigger AVI
Patient Wander Alarm
Fall Prevention Mats
Door Monitoring
PIR Motion Sensor
Visitor Temperature Screening
Doorbell / Intercom
Use Touchsafe Pro for Contact Tracing, Infection Control, Night Rounds & Bed Rail Checks
By implementing the use of portable devices such as the Nurse Call Buddy or Bluebell Pagers, Touchsafe Pro will identify and record which staff member was with which patient or resident and at what time for contact tracing and infection control. It's also possible to simply label a Buddy as 'Night Rounds' for the purpose of logging the nightly rounds or bed rail checks without identifying the staff member.
Touchsafe Pro is the latest innovation in wireless Nurse Call Solutions. Developed by Aid Call who are at the forefront of Nurse Call technology and our partners in wireless Nurse Call for almost 25 years.